Before and After School Care
WRAP AROUND CARE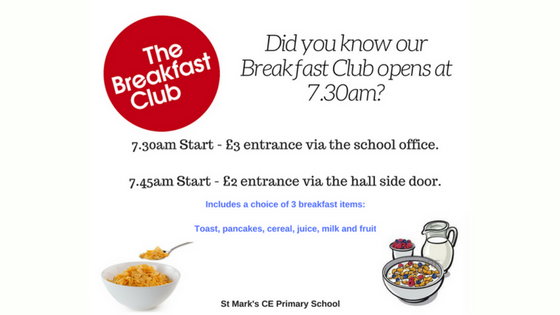 BREAKFAST CLUB At St. Mark's we have a thriving Breakfast Club to support you with early morning childcare. The club opens from 7.30am and we ensure the children get to classes on time for the start of morning sessions. Last breakfast is served at 8.30am. The current cost is £2.00 a day—this covers the childcare element and provides 3 items in any combination eg drink/ slice of toast/ yoghurt or drink/ cereal/ piece of fruit . Your child (and yourself/ younger siblings / relatives etc) can attend any day without the need for booking in.
Nursery – Year 6
7.30am Start - £3 entrance via the schooloffice
7.45 am - £2 entrance via the school hall
Breakfast Club £3.00 or £2.00 a day – includes childcare plus 3 breakfast items
NB: Last serving is at 8.30am
End of school—6pm (5.30 Fri) £3 up to 4.30pm / £6 up to 6.00/5.30pm
SMART CLUB
The school provides After School Care during term time called 'SMART Club' and is run by school staff.
Session A : 3.20pm/3.30pm-4.30pm £4 per session
Session B : 3.20pm/3.30pm– 6.00pm (5.30pm Fridays) £7 per session
You can book from 1 day a week up to 5 days a week and occasional days are also possible, subject to places being available .
Payment must be paid in advance of the day. If children are booked for session A but not collected until after 4.30pm then the additional charge for session B will also become due.
St. Mark's S.M.A.R.T Club is an after school childcare provision for children aged 3-11yrs. Based at St. Marks Primary School, children enjoy indoor and outdoor activities in familiar surroundings with qualified staff.
For further information please contact Mrs Oldham at school.